Ty Chandler doesn't have to search far and wide to find a player who plays the game the way he wants to play it.
He just needs to look at the guy he was brought to Tennessee to replace.
The Vols sophomore running back said he watches the way former Tennessee star Alvin Kamaraplays the game for the NFL's New Orleans Saints and sees the same way he wants to impact the game.
"Yeah, for sure. No doubt," Chandler said before the Vols' Wednesday practice at Haslam Field. "You see him in the pros now, and he's being very successful and able to do his thing."
That "thing" of Kamara's is the way a running back can become the focal point of an offense in the running game and the passing game. It's not quite a running back/wide receiver hybrid position, but at times it seems that way. He can line up as a solo running back, an I-formation tailback, a slot wide receiver or nearly anywhere else imaginable. He can run the ball, catch passes out of the backfield and even line up and run routes in the slot.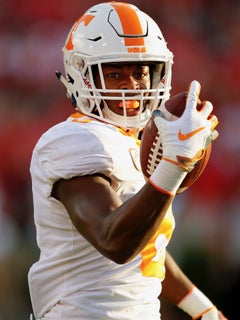 Chandler said a player who can do all those things is a player no defense wants to face, and he thinks he can be that kind of player.
Kamara certainly is that type of player. The former Tennessee star was named NFL Rookie of the Year last season and is currently an early contender for league MVP as a second-year pro.
"I feel like you have to be able to do both — receiving the ball out of the backfield and just being able to run between the tackles and outside, all of that," he said. "I feel like it just gives you more, like, variety, and opens up your ability to contribute to the game."
Chandler — the nation's No. 67 overall prospect and No. 5 running back prospect in the 2017 industry-generated 247Sports Composite — was initially brought to Tennessee in hopes of being the next Kamara, or at least the next Kamara-like player.
Butch Jones' dismissal and hire of Jeremy Pruitt and a totally new staff changed Tennessee's offense heading into Chandler's sophomore season, and there was reason to wonder how a player like the 5-foot-11, 201-pound Chandler would fit into the plans of a head coach who admittedly prefers big, bruising backs.
Chandler said he knew he needed to have a big offseason under new strength coach Craig Fitzgerald.
"But I always felt like I had that [power element] in my game and was able to do that," he said.
Chandler was the best of both worlds in last week's loss at second-ranked Georgia, showing he could run with power but also showing his ability as a receiver. He led the Vols in both rushing (27 yards on five carries) and receiving (53 yards and one touchdown on four catches) and averaged 8.9 yards per catch.
"I've been in the weight room working with Coach Fitz, and I want to be able to do both — to run outside the tackles and in between the tackles," he said. "I'm just adding variety to my game. That's something I want to be able to do and credit myself with. I feel like I'm able to do both."
Chandler also had the longest play of the day for either team, catching a quick flare pass from quarterback Jarrett Guarantano, setting up a key block perfectly and racing past Georgia's secondary for a 35-yard touchdown.
"I had a great kick-out block by the tight end [Dominick Wood-Anderson], and I knew I really couldn't go outside because there was a defender there," he said. "I was able to beat a defender off the edge, and after that I knew I had to take it to the house. I had to finish it, and luckily I was able to finish it."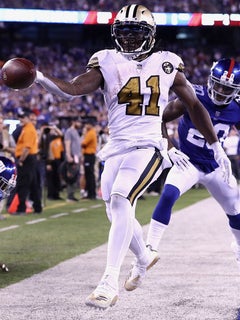 Perhaps the biggest question regarding Chandler from Saturday's loss is why he touched the ball just nine times — though, in fairness to Tennessee's coaches, the Vols' offense had just 46 plays from scrimmage, and one of them was Guarantano taking a knee to end the first half and regroup in the locker room.
Chandler said his job isn't to question the game plan, but to see where coaches put him in that plan and then do what he's told to do.
"I mean, we have a game plan every week, so we just follow that," he said. "If my name's in it, then in it's in it. And if it is, I'm trying to go out there and do my part and execute where I can."
To be clear, though, Chandler said he'd be happy to do anything — including lining up occasionally as a wide receiver — to get more touches and help his team put more points on the board.
Chandler said he's also happy to continue returning kickoffs, too.
"It just depends on the game plan and what my coach wants me to do, but I'm more than happy to out there and run routes or whatever," he said. "Any time I can get the ball in my hands, man, I'm more than happy to get it."
Learning a new offense has occupied plenty of Chandler's time the past several months, and he assumes Kamara also has plenty on his plate. He said he keeps in contact with Kamara but also gives him space, especially during the season.
"I mean, I know he's busy," Chandler said. "When he's here, I get a chance to chop it up with him and talk to him, but he's on the road a lot, you know what I'm saying? I let him do his thing and focus on his game, but when he's here, no doubt, I get a chance to talk to him.
"But watching him on Sundays and stuff like that, I'm able to see the things he does and try to incorporate it into my game."